My Biography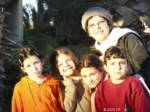 Students with Gina
Georgina Ida Meyer-Duellmann, known to all as Gina, was born in Rio de Janeiro, Brazil in 1943. She began her academic studies in 1962 with Sociology and Fine Arts.
From 1963 to 1966 she attended The Professional School for Graphic Arts in Munich, Germany. Upon her return to Rio de Janeiro she worked from 1966 to 1968 as a graphic designer in an advertisement agency and then as a printer in a publishing house and taught art in various schools. In Petropolis she founded the Estudio Grafico de Arte, her own art school for students of all ages that she managed until 1973, when she left Brazil to come to Israel.
Gina stayed in Israel for two years and during that time she volunteered in various Kibbutzim and gave art classes. In Kibbutz Ha-Zorea she met Michael Duellmann and both left later for Germany where they got married in 1975. The couple settled in Bonn where their daughter Rebekka was born in 1979 and Gina taught art again and worked as a graphic designer.
Eventually she became involved in the German Peace Movement where she too was in the position to put into practice her art and sociology studies as well as her many skills as a teacher. Under the motto "You can't buy Peace so you make it" Gina organized art lessons in schools and exhibited the children's paintings in which they expressed the many fears and anxieties they experienced, while the grownups talked about the dangers of an atomic war.
In 1994 Gina returned with her daughter Rebekka to live permanently in Israel and the two settled in Beersheva. Though she took on a full time job in order to make a living for herself and her daughter, she continued teaching art and volunteering for various educational projects in her new hometown.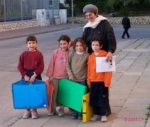 Georgina and her
young students
in Beersheva,
January 2005
At the School for Graphic Arts in Petropolis the children learn to develop their personality while playing...
In 1997 she again founded her own graphics studio, "Graphic Studio Ginat Meir" in Beersheva, where she first started by teaching art to young children while she also worked for six years, until 2003, as an art teacher at the IDF Club for the Disabled Veterans at the Ministry of Defense, South.
She was the founding member of the "Fruits for Peace Association" founded in 1997 where Christian, Moslem and Jewish artists promote peace through art.
Gina has continuously been a guiding force in organizing Jewish-Arabic art exhibitions in Beersheva; she has contributed to the realization of various educational projects striving for peace in our region. For many years she had also been a member of the Painters and Sculptors Association in Israel as well as of the Israeli Miniature Association.
Georgina appears in the
Beer Sheva newspaper, Sheva
To this day she organizes individual and group exhibitions for her many students that visit her at her "Ginat Meir Studio" or that she meets at the various volunteering projects she still teaches; since March 2000 she has been volunteering as an art teacher at the "Pais Senior Club for the Golden Age" in Beersheva.
Though since 2003 she started working also on oil portraits, Gina's main artwork is focused on woodcuts that she has already exhibited at museums and galleries in Brazil, Germany and Israel.
Written by Florence Amit, Fruits of Peace Asso., Beersheva, 1999
Edited by Yaar a Paldi, Beersheva, Jan. 2005