Peace Education through Art, 1984-2020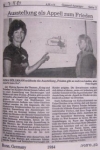 Gina featured in
a German Newspaper
For many years, and in many places, Gina has brought her message of peace through art to many students. The two newspaper clippingsdisplayed on this page show just two of the occasions in which Gina has done this.
The first one is from Germany. On this occasion, Gina worked with children in their schools on various projects of art. At the end, a public exhibition was held, and the students were able to publicly display the art that they had created with Gina's guidance.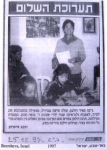 Gina featured in
a Beer Sheva Newspaper, 1997
The second clipping is from the city of Beer Sheva, Israel. Here, too, Gina worked with children. And on this occasion as well, a public exhibition displayed the art that the children produced.