First Stay in Israel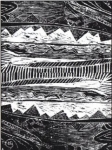 Vision to come
to Israel
On September 13, 1973, one day after the assassination of the Chilenean President Salvador Allende, I embarked on a ship from Rio to Genoa where another ship was to take me to Haifa.
I deliberately opted for a sailing trip as I wanted to take my time and also the long trip should symbolize the time of waiting to come closer to Israel and my Jewish roots.
After all the years and detours my dream was finally coming true; soon I would be in Israel, get to know her people, learn the Jewish-Israeli history, visit her holy places, and learn to speak, read and write Hebrew.
On board of the ship from Genoa to Haifa I befriended a young Israeli couple from Ramat-Ha-Sharon. On October 6
th
, after a short sightseeing trip through Athens, the three of us returned on board to hear the horrifying news that Israel had been massively attacked by Egypt and Syria and forced to go to war on Yom Kippur, the holiest Jewish holiday.
We were soon informed by the captain that due to the war and the water mines danger, our ship would only sail as far as Cyprus. Those passengers, who needed or definitely wanted to continue to Israel, could get off the ship at the port of Limassol; the other passengers were welcome to join him and the crew on their trip back to Italy. All of a sudden I was not only confronted with a totally different situation, I was forced to make a very fateful decision and I had no idea what impact it would have on my future life. I had twenty-four hours to make up my mind, to either return to Genoa or join those passengers going to Israel. I spent hours walking up and down the ship's deck, hoping to find a solution and trying to overcome my fear; the only wars I knew about took place in the books I had read and I must admit that I was really scared. I also thought about my parents so far away and regretted not being able to talk to them and ask for their advice as I used to do. I looked back on my life and thought about the fact that for the last eighteen years I had planned to see Israel and that now I had almost arrived there.
I knew that should I give in to my fear now and go all the long way back to Brazil, I would never be able to forgive myself and the feeling that I had actually failed myself at the end, would never leave me; something also told me that I would never get as close to Israel as I had come now.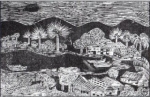 Lake in Brazil
I thank G-D that He helped me overcome my fear and that my love to Judaism and to the land of Israel made me take the right decision. The following morning I joined the Israelis getting off the ship in Limasol, together we drove to the airport to wait for the next plane that would take us to Israel. The first to obtain a flight back the next morning, were the young Israeli men that in their absence, had been called to join their army units, and their wives; among them were also my new friends from Ramat Ha-Sharon, Eli and Pnina Sela. We spent our last evening together driving all the way across Cyprus to Nicosia; in the small car topped with our luggage and my big drawing portfolio, we listened on the radio to Golda Meir speak. Again, this overwhelming feeling of solidarity came over me, I felt as if I was going home, even though I had never been in Israel before.
Together with Zvia, the Israeli girl I had shared my cabin on board with, we saw Eli and Pnina off at the airport and returned to our hotel room in town, to wait for the next flight that would take us to Israel. Zvia would call the Israeli embassy in the mornings as we were supposed to be in touch with them daily; for the rest of the day we would try to do some sightseeing of the island, but under the sad circumstances we were both hardly in the mood. At long last, after ten days, on October 17
th
, we were told to pack our stuff and head for the airport, the last flight to Tel-Aviv was leaving the same day. The El-Al plane was crowded with Chassidim on their way home and Zvia and I were the only women on board. After a short flight, we were told by the captain that we were going to land in a couple of minutes but everything was dark outside, I could see no welcoming lights flickering in the distance, due to the ordered blackout the whole country seemed to lay under a huge dark cloth. I joined the Chassidim in their fervent prayers for a safe landing and home coming and for the deep gratitude that I felt for finally, after so many years, having made it to Israel.
My friends, Eli and Pnina, picked me up at the airport and I spent the night at their house in Ramat-Ha-Sharon. The next morning they drove me up north and helped me find a kibbutz with an Ulpan (a school that teaches Hebrew to adults) that would take me in. The Jewish Agency in Rio had arranged for me a stay in kibbutz Matzuba, where I would have been able to live and learn Hebrew for the five months I planned to be in Israel, but my friends who worried now about my safety up there, Matzuba is very close to the Lebanese border, dissuaded me from going.
Eventually I found a place in Alonim, a kibbutz that is located near the village of Tiv'on, in the Yisrael valley. Very soon I was working in the aluminum factory and painting the kibbutz dining room windows during the morning hours, while the afternoon was dedicated to the study of Hebrew. Until it tuned dark and cold outside, I would go for walks in the fields surrounding the kibbutz, read loud to myself and learn the language intensively.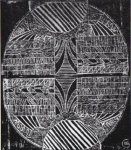 The Ways of Life
But the sad news coming in every day and the deep depression that had engulfed the country since the outbreak of the war, had their impact on me too and I felt that I wasn't yet ready to start a new life in Israel. I decided to return to my students in Petropolis and in the morning of Dec. 3
rd
, 1973, carrying my five suitcases and my big portfolio, I boarded the train to Tel-Aviv to say goodbye to Eli and Pnina Sela. In the newspaper I read that David Ben-Gurion, Israel's first premier, had passed away in the early morning hours. Suddenly I realized what a cowardly act wanting to leave the country at such difficult times would have been and I felt deeply ashamed of myself. By the time the train arrived in Tel-Aviv I had thought it all over again and made up my mind to stay in Israel for good, to contribute as best as I could of my work and energy and to become a part of the people and the country. The decision to give up my art school and the many students waiting for me in Petropolis was very difficult to make, but if I wanted to succeed now I had to push any thoughts of regret and distress away from me.
My uncle, Walter Hoffmann, who had a small photo shop in Haifa, helped me find a place in kibbutz Ha-Zorea where I could immediately start an Hebrew Ulpan. The kibbutz that is also located in the beautiful Yisrael Valley had been founded by German Jews in 1936. I hoped also to be able to join the group of artists, I had found out lived and worked in Ha-Zorea and among them to lead a creative and peaceful life as a member of the kibbutz.
But this wasn't meant to be; on January 30
th
1974 during a chess game in the kibbutz clubroom I met Dietrich Duellmann, my future husband with whom I would be married for twenty one years.
Dietrich who was German and had studied five years evangelical theology in Goettingen knew very much about Judaism, its religion and tradition and lived in Israel as a German citizen, since 1971.
Two years before he had moved from Kibbutz Ramat David to Kibbutz Ha-Zorea where he was made responsible for the cleanness of the kibbutz grounds; he was well-liked, lived in his own Tzrif (cabin) and had applied and been accepted as a candidate for the membership of the kibbutz. In Ramat-David he decided to begin.
Michael
On Passover Eve of 1974 we celebrated our engagement in the kibbutz clubroom and shortly after, the Rabbinical Court requested that we lead a Jewish religious life and that we therefore leave Ha-Zorea and move to a religious kibbutz. Dietrich, who called himself by the Hebrew name of Michael now, felt very much at home in the kibbutz, and didn't feel like moving again. As much as I too loved being in Ha-Zorea, I looked forward to the move and to finally learn to lead a Jewish life as had been my intention ever since I had become interested in Judaism, back in Petropolis. Eventually we found Kibbutz Beerot Yitshak near the town of Petach-Tikva, to be suitable for us and we moved there in August of 1974.
Even though the surroundings of Beerot Yitshak aren't as pretty as those of Ha-Zorea, I was very happy there. I loved to go to the synagogue and I enjoyed the people's company, but most of all I cherished the daily Torah lessons and the observance of the commandments, that have determined my life and that I have kept to this day.
Michael's conversion and our Chuppah (Jewish wedding) were due to take place in December. I had obtained from Brazil all documents that I needed to prove that I was Jewish and still single; everything was being prepared for the day, when all of a sudden Michael made up his mind to return to Germany. He told me that I could either come along with him and we would marry in Germany, or I could stay back in Israel. Being a left-winger pacifist (as a young man he had refused to be recruited to the German army and did a term of civil service in a home for the elderly, instead. Later as a theology student he became involved in heavy conflicts with his church that were even covered by the media) he explained to me then, he did not want to be converted and married by a Rabbi who sympathized with the Gush-Emunim (Block of the Faithful) movement.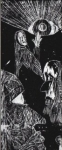 The Three Prophets
Again I was being forced to make a major decision that would certainly influence my life in the years to come, but this time I opted for a compromise and agreed to follow Michael to Germany.
Leaving Israel again now when I had hoped to be settling down in the country, was extremely hard and painful for me and so I made Michael promise that we would be back in the kibbutz where I looked forward to continue my just started Judaism studies, in two years at the latest.
Michael wished that we return to Ha-Zorea where we lived and worked for another six weeks and on February 25
th
, 1975 the kibbutz secretary drove us and our luggage to the port of Haifa, where we boarded a ship to Athens. I never felt so divided before in my life, I wanted neither to part from Michael nor did I want to leave Israel. From Athens we took a bus that drove us via Yugoslavia, all the way up to Hanover in Germany and then to Michael's mother house near Wolffenbuettel. The only highlight I remember is the sightseeing we did in Belgrade.
Our civil wedding ceremony took place a month later, on March 27
th
, in the town of Schoeppenstedt, by Braunschweig, near where Michael's family lived; my uncle Klaus flew over from London to be my best man. I possessed neither a wedding gown nor did I have a dowry, all I had was the hope that the risk I had taken of going to live in Germany, would on the long run bring the happiness and fulfillment we were both looking for. I told myself that all I needed was a little patience and that soon I would be able to return to Israel and lead a Jewish life as I wanted to.