The Art School "Estudio Grafico de Arte", Brazil 1968 – 1973
Educational Concept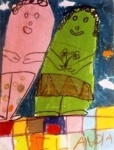 Claudia Pellegrini Queiroz, aged 7 Little Monsters as a living Couple oil pastel
The graphic and painting courses are taught by the founder and director of the Studio, graphic artist Gina Meyer-Duellmann, whose wide range of experience in teaching arts she acquired while working and teaching visual arts in her school Estudio Grafico de Arte in Petropolis, Brazil and later on in Germany, and which she now continues to practice in her art studio in Beersheva.
The studio's educational aim is to instill in young and older students the artistical techniques while spontaneously inspiring their own individual artistic resources.
Drawing is not a matter of talent according to Gina Meyer-Duellmann, but a question of whether or not a student has learned to thoroughly observe his surroundings and bring what he sees on to his drawing board. The method of teaching at the studio is to address each and every student according to their artistic inclinations as well as to try to deepen their knowledge of art and its development through the years, in order to provide each student with the tools which will enable him later on to set his personal method of work and give an artistic pattern to his everyday life.
Healing through Art
Conversation, humor and music are the three pillars upon which Gina Meyer-Duellmann founds her method of teaching art to the bodily disabled, the slightly mentally retarded and the socially repressed. Though their affliction may differ, when welcomed with warmth and attention, when someone reaches out their hand to them, these students too find that they can relax, forget their daily hardships and enjoy the art lessons.
When talking to each other, laughing and listening to music, tension and anxiety are lifted from them, making room in their souls for creativity to show and giving them the power to develop the talents that have been dormant in them for so long.
The Studio in Brazil
We make art...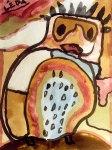 Leda Maria Nogueira Viana, aged 7, Marvelous Owl
At the School for Graphic Arts in Petropolis the children learn to develop their personality while playing...
This is the only school in the entire Rio de Janeiro area that has been invited by the American Embassy to participate in the World Children & Youth Art Exhibition in Saint-Louis, Missouri. In the School for Graphic Arts the students learn how to discover their own creativity and get all the support and assistance they need from their tutor that first of all teaches them to see and recognize the beauty that surrounds them. She leads them into the rich and colorful world of children's literature; walks with them into the beautiful garden the school is located in and encourages them to express their impressions on paper, while soft waltz tunes are playing in the backround.
About thirty children and their young teacher have gathered around the gramophone, she hands out drawing sheets to them and while they listen to the music, they dance the brushes, they have dipped in the sparkling water or gouache colors, to the rhythm of the waltz on their papers.
Through tales, songs and games the children learn to relate to their surroundings, they play in order to learn and they learn while playing...
Article from the Brazilian Journal "Petrobras", 1972