Senior's Club of the Golden Age, Beersheva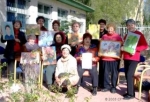 Seniors with their Teacher, 2005
Dear Gina
"...We met when you first started teaching at the Club for the Golden Age and you had just taken upon yourself the task of volunteering as an art teacher.
I must emphasize that through your presence and your work you added color and an atmosphere of creativity to our club. For your contribution I wish to thank you and say Bless You! I recall the exhibition you prepared with your students at Yad La-Banim as a very moving moment in my life.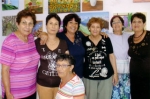 Seniors with their Teacher, 2008
I am grateful to you and wish you many more years of creativity, may you enjoy good health and a long life".
– The late Mr. Yoske Salz, chairman of the committee for community services, the association for the elderly,
Beersheva, Jan. 12th, 2005
(Please note: Gallery 1 is from 2001-2005 and gallery 2 is from 2007-2008.)