Life Story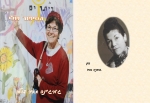 Cover page of my newly edited Biography
My main purpose of
this third Autobiography
, this time in Hebrew, is to tell my dear granddaughter Zoey how I have coped in Life, searching and finding my Jewish identity and roots in Brazil and Germany, thus coming three times to Israel, staying at last with my daughter, her Mom, Rebekka on the third time here in Israel for good.
As well as to leave her some knowledge about the important connection to our Jewish traditions, our Jewish values and the names of our ancestors, that eventually I could not tell her now while she is a little girl.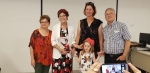 At the festive Autobiography presentation in the "Yad Sarahs" Hall, 14th. of July 2019, from left to right: Miriam Ziv Bruch, the author Gina Meir Duellmann, Rebekka Duellmann Britan with Zoey and Marcelo Bruch.
The first autobiography I have written was for my daughter Rebekka "Return to the Jewish Roots", in Germany and Hebrew on 2000. The second was kindly translated by Kristina Michahelles, Chairwoman of "Casa de Stefan Zweig" in Petropolis, to Portuguese "A Folha" and edited 2009 in Petropolis, Brazil.
With the great help from "Yad Sarahs" Volunteers here in Beersheva I started to write down the first edition on 2018 and finished it on 2019. Once I was volunteering for 7 to 8 years in Yad Sarahs Rehabilitation Center "Shikumon" Department as their Art teacher, I could receive this very blessing help from their "Life Stories" Department Volunteers, Mrs. Noga Miller and Mrs. Ester Rosenthal.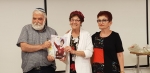 At the presentation, from left to right: Michael Benson, "Yad Sarahs" Chairman in Beerheba, Gina and Esther Rosenthal.
One of their young volunteers, Mrs. Noga Miller came to my place each Sunday morning, who taped my memories I told her from my Life since very young age. She was replaced by Mrs. Ester Rosenthal, because she was expecting her first Baby. This long taped material about my Life Story was then printed and ordered in chapters in the dept. "Life Stories".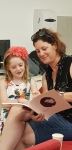 At the presentation: Zoey with Rebekka, taking a first glance on my Biography for Zoey.
On each Sunday morning Mrs. Ester Rosenthal then helped me correct or add some words or sentences that I found was missing on the printed material she brought with her, by reading together the material. At home Mrs. Ester Rosenthal tipped again the material with the corrections we have done together, really a great work and help.
The Reception of the first Edition of this Autobiography in Hebrew for my granddaughter Zoey took place on the 21.st of July 2019 in the rooms of Yad Sarah in Beersheva, where Rebekka with Zoey came especially from their home in the North, as well from Beersheba my relatives Miriam and Marcelo Bruch as some of my friends and Noga, Ester and Michael Benson, chairman of Yad Sarah Beersheba. The photos next show you this festive book reception.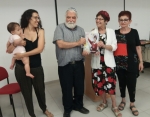 At the presentation, from left to right: Noga Miller with her newborn Baby, Michael Benson, Gina and Ester Rosenthal.
Thanks to Miriam Bruch, who read this Autobiography and find new corrections over all the text, for my surprise, I have corrected the text and introduced more artworks of my own in this Autobiography.
Thanks to Print House "Image Print"s graphic designer Mrs. Tali Sharvit, who helped me print the second edition at her works place and brought me ready the second Edition of this Autobiography with 70 copies on Chanukkah 2020. These copies should be for my friends and guests for eventually my postponed art exhibition from May 2020 at Beershebas Municipal Library, to 2021, because of COVID 19 on 2020.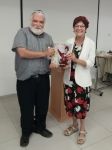 At the presentation, Michael Benson, showing my newly edited Biography.
Meanwhile the original second edition is being kept by Zoey's mother Rebekka at their home, until Zoey grows a little bit more and may be interested in reading it.
Gina Meyer-Duellmann,
Beersheva, 14th of January 2021