Letter from Yad VaShem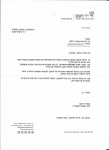 Letter from Yad VaShem
Yad VaShem,
The Holocaust Memorial and Heroism Authority, Library Department
Jerusalem, 27 Tevet, 5778
January 14, 2018
To:
Mrs. Georgina Meyer Dolman
Dear Mrs. Meyer Dolman,
Ms. Sylvie Sitbon from the Commemoration Department, transferred to our library the book which you wrote and gave them, and we thank you very much for that.
The book's name is "Back to My Jewish Roots", in which you describe your experiences and the experiences of your family during the Holocaust and in subsequent years, both in text and painting.
It is very important to commit memories to writing, to memorialize the victims and as a personal historical documentation for the sake of future generations.
This book is a valuable contribution to our collection, and will be available to the readers and researchers who frequent our library.
Sincerely,
Naftali Deutsch
Assistant to the Library Manager
CC: Ms. Sylvie Sitbon, Commemorative Division
PO Box 3477 Jerusalem 9103491, Israel
Tel. 02-6443530 | Fax 02-6443663
Remembering the past, guaranteeing the future