"Fruit of Peace". Israel, 1997-2013
The "Fruit of Peace" a non-profit organization in Israel was founded in 1997 with the purpose of promoting peace and in order to strengthen the co-existence among people through the language of art. This is what artist Georgina Meyer-Duellmann had in mind when she brought together Jewish and Bedouin artists to work to install peace in our region, a subject so very dear to her heart.
She first met the artists Alhuzail Abed El-Rachman, Abu Jirbia Ibrahim, Abujama Juma and El-Abid Abed El-Rachman who were then joined by Jewish artists Florence Amit and Melech Berger.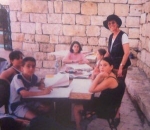 Abrahams Well, Beersheva,1999
Students of 'Fruit of Peace, Israel'
All of them showed great interest in the project and dedicated a lot of time towards its realization, they later developed the idea of "Fruit of Peace" which they officially registered as a non-profit organization. With the money donated by the Brachah-Foundation, the artists were in the position to rent and open the house of "Fruit of Peace" next to Abraham's Well in the old city of Beersheva.
Georgina Meyer-Duellmann was the heart and soul of the organization, encouraging the artists to work together and stick to the goals they had set for themselves. She had a lot to give to all who worked with her; she made all around her grasp the importance of peace, co-existence and friendship among Jews and Bedouins. All her projects, either the art exhibitions or the meetings with schoolchildren that she organized, had been guided by Georgina's deep belief in peace and understanding. The Jewish and Bedouin artists all loved her and regarded her as their spiritual mentor.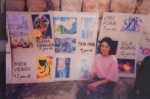 Tikva Dafna MazalAbrahams Well, Beersheva,1999
Students of 'Fruit of Peace, Israel'
When I replaced her as the Chairman of the Board of "Fruit of Peace", a position I held for six years, Georgina continued to assist me in every possible way; she always found the time to support and helps us promote the goals of our organization.
Headed by Mrs. Aline Habib, the new Chairman of the Board, "Fruit of Peace" elected Georgina Meyer-Duellmann at the beginning of this year, to its Honorary President, in acknowledgment of her work for peace and co-existence.
El-Abid Abed El-Rachman
Art teacher, Fruit of Peace, Rahat
Vice Chairman of the Board of "Fruit of Peace",
A Non-profit Organization
Jan. 2005